I was raised in a Stepford community. You know that town where everyone was perfect; well no, they weren't anywhere near perfect, and some of their stories would make the devil blush, but the town was full of families who plastered their skeletons with make-up: a basic foundation of delusions-of-grandeur and denial (one that matches the skin tone), a little blush on the cheeks for false innocence,the piercing eye effect from the latest issue of Forbes Magazine, a high brow and nose that points up for the pig-nostril look, dramatic eyelashes to overplay the role of the victim, and projection — a basic red lipstick so as to leave a mark when they kiss your…. The things every good Baptist wears to church on Sunday Morning. ~Excerpt from my chapter in Lose the Cape: Never Will I Ever. 
Williamstown, WV. Home of the Yellow Jackets (GO MAROON AND GOLD! RA RA SHIT!) and Fenton Art Glass (way to shut down shop you guys, good work). Shhh. We don't talk about that.
I lived there in the 90's. We lived in George Fenton's old home, that's the President of Fenton Art Glass. THE PRESIDENT. HAIL FENTON! Some people only wanted to hang out with me because we lived in that house. No joke. We did the school, the church, the community clubs. My father was a "pillar of the community."
When I was there, I hung out with people who liked rap music. They drank vodka. Smoked weed. Back then, the best place to buy weed in Williamstown was from some Rage Against the Machine type (hippy gangsta) elementary schoolers, one of who has passed on since, and shhh. We don't talk about that.
My dad used to tell me, "You need to run with a better set of friends."  Sorry dad. I love you. But YOU are the one who needed better friends. All of his friends from that church, from the town politicians, from all the area businesses… all of them put makeup on their skeletons in their closet and, therefore, are now superior and holier than thou.
Not all of them were total jerks, but the enough pillars of that community lead the way to a culture of dumbfuckery, and the rest remain silent about it. They discriminate, against everyone who isn't them. They are an exclusive club. While they discriminate against black people, they aren't racist because they also hate some white people like gay people. See, that's not racist.
Recently, a special needs person wanted to attend prom. We must stop that! Silently!
While the town does not welcome outsiders and businesses, especially bars and other riff raff, one huge demographic who got to miss out on the Stepford-fakeness are minorities. If you can hide, you were fine, but skin color just doesn't hide too well. Lighter skin fared better than darker skin, and lesbians fared better than obvious special needs. As long as you hid your "blemishes" that the rest of the world tells you to take pride in, you were fine. Shhh. We don't talk about that.
I never realized it in high school. The first time someone told me that town was racist, I thought, "Whaaaattt? Williamstown? No. Two black people were in the high school. Two. I can vouch. I was friends with both."
But then I remembered how a kid named John used to follow my sister around high school calling her a "nigger lovin whore" because she had black friends, and I just thought, "Surely that's a redneck thing, not a Williamstown thing. Right?"
Then I really got to see it. I listen more than I speak, and that should terrify people because I say a lot.
The mayor of Williamstown is a shrewd businesswoman who could make Judge Judy bow down to her awesome. She always looks perfect in the best suits that cost as much as my furniture. But don't let her Vogue body distract you from the fact that she's smart, successful, with a shit ton of friends in her back pocket, don't fuck with this lady.
God I looked up to this woman for years. I hate to go here, but it has to be gone, and the only way for it to get gone is to go here….
She also has grandkids nobody knows about. Why? Because they are black. What? Yeah. Um apparently, one of her children adopted. Shhh. We don't talk about that.
Well we do talk about that in Vienna, just south of Williamstown. When one of the kids grew up, in her early twenties, she wanted to see her grandfather she hadn't seen most of her life. All according to this kid…. She went into the family business she was never a part of, asked her grandmother if her grandfather was there, and the mayor, her grandmother, said, "No, he's not. He just stepped out." As she was leaving, her grandfather walked out. He was there. She knew the ostracizing from that part of the family was because of the color of her skin. She so much wants them in her life because they are wonderful people, and that's what makes it hurt all the more. It hurts me more too because I now have mixed kids of my own, and my childhood hero probably wouldn't approve.
I don't think they really care about skin color. They are not dumb. They know skin color doesn't dictate character. It's just that they think the community wouldn't approve, so they hide it.
So what? Williamstown has a slightly racist mayor. No big deal. The rest of the town is ok.
Then I rented a house from the VP of Sales at Fenton Art Glass, Scott, a 6th or 7th generation spoiled rich brat… maybe it was a 5th generation… who's counting? Nobody is documenting the begetting of the Fenton Family like they did King David, so I can't be sure. Shhh. Don't tell Williamstown that.
Things went very smoothly until one week in July when things immediately did a 180. Scott just didn't want us there anymore, and he was rude, obnoxious… He threw temper tantrums. His girlfriend's mom threatened to beat me up, and I was pregnant.
So I moved out quickly to avoid drama because I had more important things in my life like my kids, and when I requested my security deposit back, pointing out the house was cleaner when we left than when we arrived, Scott's response was, "You had a black dog."
"What? No I didn't. I don't have a dog. A. You guys said I could have pets. You offered me one of your kittens. I said I didn't want any pets because I have kids. B. I never had a dog even though I was allowed to have one. I didn't have an animal visit at all. I didn't have anything that could be mistaken for an animal. What are you talking about?"
"That first week in July, you had a black dog for about a week."
You know who I had for a week that week in July? My friend's black son.
I threatened to sue; he threatened to have the Cincinnati mafia kill me. Who does that?
There's a million ways to take it, but considering all involved, I think I'm on the money here. The point is that this is the kind of racism you are up against in towns like Williamstown. Most of what you encounter can be taken any which way, but during it, you know it's about race.
In this situation, I was allowed pets. I didn't have any, but I was allowed to have pets. They even offered me their pets. Scott's behavior did change after that week, and for the worse. Before July, it was a long-term rental, and after that week in July, it was a buy the house or get out deal plus harassment and threats. And when he mentioned the black dog, I didn't first assume he was talking about any kid. He repeated it in ways to help me make the connection.
But Michelle… That's just the important people. The regular people are not like that. Not at all.
The Williamstown Idols: Politicians and Fentons. That's the problem. They are idols. Everyone kisses their ass.
Let me see your lips, have they been there too?
See the reason Scott knew I had a "black dog" that week was because several neighbors, including a cop, called and told him. They complained about the black kid like every other white community behind the stories of cops accidentally killing a black child. Shhh. We don't talk…But wait. I thought we weren't supposed to talk about that?
But it's more than that. To protect the victim in this story, I won't use real names, but one family was always a big deal in the community. They weren't politicians, nor did they own a business. They were just very popular at the school and the church… all of them. Most importantly, they were influencers. If one of the daughters didn't like someone, nobody liked that person. If the dad said someone did him wrong, a mob with pitchforks formed.
For purposes of this story, we shall call them Tubbo's. I don't think they are racist at all, and they are all very nice people, but just because someone is nice and doesn't use the n-word doesn't mean they won't discriminate.
A student teacher at the high school was asked by a student to show a picture of her family. She did. She was immediately yanked from the room and taken to an office by one of the Tubbo adult-children who taught at the school. Again. Popular. Influencer. She immediately, flat out, told the student teacher that she can't show her family's pictures in Williamstown. Why? Because her kids were mixed kids. The Tubbo Adult-Child went on to further explain…
"Williamstown is a guarded community."
And that summarizes the town pretty well. That's why they don't like outsiders. They don't want businesses unless you were already accepted as a member to their little club. They definitely don't want bars. They don't want any go-carts, Chuck E Cheeses or anything that might attract children. They don't want lesbians or gay people or transgender. They don't want people who speak in Muhammad dirka dirka, or ying yang fu, or Manjula Apu… They also don't want people on welfare, special needs people, or really intelligent people. They have a box. If you don't fit in that box and get square, you are not welcomed there. But Shhh. We don't talk about that.
Why? To keep the streets safe.
Definitely, don't do what I did here. Don't talk about the shhh's. Don't mention the high school teacher who married his student. Don't complain about the rudeness from people. If you want to fit in that community, take it like a whore. Like the rest of them do.
Racism is what you are supposed to do to fit in. That's just the way it's always been.
The point is, racism takes on many forms. A lot of people say that racism is prejudice plus power, and they don't just mean the idols. Being part of a majority is power. And the majority, like any huge flock of sheeple, do as the shepherds do, so the idols are a big picture to this.
While you may live in Williamstown and not be racist, if you voted for people who discriminate based on the color of one's skin, you are part of the racism problem. If you spend money with racist businesses, you are part of the problem. If you suck up to racist people, you are very much part of the problem. If you call to complain about a black boy for being black, that's just racist.
If racism is one of those "Shhhh, we don't talk about that," subjects, you are part of the problem.
Quit being the SILENT MAJORITY. The culture of a silent majority who allows this sort of thing is damaging. Read the picture here… It's truth…
Look Sheeple. I know you don't realize this, but what if I told you that you get to choose your shepherd? Yes. You get to choose your god. You get to choose who has the power. Do us all a favor and choose gods who will not abuse their power. Choose gods of moral principle. Choose gods who love all people.
Create the culture the gods try to appeal to in order to keep their god-like status.
Don't bitch that someone played the race card. Don't act like it's not happening because it is, and you are probably one of the reasons it is if you can't admit it's happening. Don't invalidate people's experiences. That's just rude anyway, but when it's on the subject of racism, it's a form of racism.
Definitely do not tolerate racism. Quit Shhh-ing yourself. You see it, you say something. You do something. You don't let these people believe you are ok with it at all. Black people are doing everything they can to stand up for themselves, but a lot of white people will only listen to white people because of the power.
Williamstown, WV is a template of America White Community.
There are MANY towns exactly like it, some worse, some not as bad. It's the template of power that has fueled #blacklivesmatter including the crime, the dangers of walking through their riots, and all the horrible monsters the movement has released on us. You know the names of the victims who were wrongfully shot by police, but you don't know the names of the people who called that in. I bet all their friends think they are nice people too. Well, racism is not nice.
I hope I wasn't talking to you; I hope I was talking FOR you.
Now I know not all my readers do this. I know most of you are not like this at all. If you aren't, don't be offended.
Again, not everyone is like this. Not everyone in Williamstown is like this. If you aren't, don't be offended. If you are from Williamstown, you should KNOW there is a silent majority and leadership issue.
Don't get me wrong. Williamstown is a fucked up community, but it's my fucked up community. I won't live there because I just can't do the drama all the time. It's not just black people. The culture in that town is very holier-than-thou where verbal bullying is the norm.
It's draining. When you got people at the church damning you to hell for considering to attend Ohio University, or excommunicating you from their church for a virgin daiquiri, or bullying you because you got mixed kids, it's draining, and a simple, "Howdy Ho Neighbor" doesn't refill the energy.  I need my space from people like this because I'm fucked up.
But despite their dumbfuckery, I still accept them in my life. Some hate me, but they are the type to be friendly to my face anyway, with the exception of the back-handed compliments and passive-aggressive gold-digger type of insults. I'm the one planning the 20 year reunion for my class. Why? Because nobody else would, but most importantly, I want to be a leader because I'm not afraid to speak up. I'm not afraid to stand up for the meek.
I'm not afraid to be the person I pretend to be.
I don't know if any of those I've grown to care about in Williamstown are part of the problem secretly, but they know I don't tolerate racism. That's what's important.
You can be part of the problem or part of the solution, but if you're part of the problem, you are a dying breed. We'll keep fucking each other until there are no more white people thereby eliminating the white power. But Shhhh. We won't talk about that.
The Black Sheep has Spoken!
Update: I've gotten some negative feedback for writing this. I knew this would go over as well as herpes and diarrhea, but like herpes and diarrhea, it's very real, and very painful. Let's hit some highlights shall we? So this way you can skip these tired arguments when you talk to me. Consider it an FAQ. Thanks
She's Bashing Williamstown
No. The point of the post is about the silence of the majority. The allowing racist leaders to run the community. It wasn't that everyone was racist. I was telling everyone to quit voting for racist people. I also said Williamstown is a template to every American white community, so I was talking about all the small towns that make minorities feel uncomfortable.
I'm just telling the truth. If they didn't want it known, they should have behaved better. I mean can you really expect to hide this kind of stuff forever? If I just wanted to bash people, I got much better dirt than this. As the victim in one of those stories, I earned every right to say it. You think hearing it was bad? Try enduring it.
RACISM IS BASHING INNOCENT PEOPLE FOR NO REAL REASON. CALLING OUT RACISM IS BASHING ACTUAL CHARACTER. 
If you don't understand that last statement, then you need to make sure you are as evil as possible in this life so hell will take you seriously.
She is saying everyone in Williamstown is racist. I'm not racist.
Neither am I, and I graduated from WHS. Not everyone is racist. Not every leader is racist. The issue isn't that everyone is racist. The issue is that there is racism in roles of power in the community, and remaining silent is just perpetuating the problem. I didn't say Williamstown was racist. I said Williamstown was silent about their racism. Shhh. We don't talk about that. DUH. Seriously if you missed that, you are probably one of those morons who think the Bible is about judging people.
Williamstown is no more racist than any other town.
Then why are all the black people running away? If all the towns suck as bad as Williamstown when it comes to racism, why move out?
Yes every town has racists, but is their mayor, the cops, the area business owners, and all the popular people racist in all those towns? No. That's an unusual mix of highly concentrated racism in places of power. There are other towns like this, and I mention that. Seriously, what the fuck do I have to do to get you people to see what I said before your brain starts spouting out bull shit against it?
I am a minority and loved Williamstown, so this isn't true.
Congratulations. I'm glad you enjoyed Williamstown. That's what I hope for. Just don't tell me this is a lie because you didn't experience it. That's illogical to assume your experience is the ONLY experience. I haven't done that here. I even said I had good memories of the town. Try to return the respect.
Michelle just wants to be famous
I'm not any more famous now than I was before this post. Maybe more INFAMOUS, but Williamstown already knew that about me. According to statistics on this blog, Williamstown, you lost the popularity contest to blow jobs and Merry Christmas vs Happy Holidays, and how to get rid of lice in less than a week… This is just this blog. This isn't even the places who published me.
You think it's Libel
No. Libel is a false statement. I made no false statements. I just told stories as honestly as possible, and I was actually being nicer than I should have been. Calling this libel is libel because it's not libel, so it's a form of slander to accuse me of libel. And last time I checked, it's legal to libel people as long as they are not dead. Look at the grocery store checkout lane of magazines and tell me you don't see any libeling occurring. The only difference between them and me is my shit is truth. It's not gossip. It's truth. I was there. You probably weren't there. So you aren't even qualified to tell me what happened and what did not happen.
Williamstown is not racist. Period.
You're the asshole I was talking to. Stop invalidating people's experiences. You are the reason the town is racist because you are part of that SILENT MAJORITY. Stop that shit. Listen to people's stories. Know you probably aren't racist, but know you should take extra measures to invite new people and if you see racism, use your power as a white person and stand up for the victim. If you work at the school, maybe start some sort of racism harassment policy like how work places have sexual harassment ones. You know, a letter that says we won't tolerate it, and then what to do if you experience it so that we can make it stop, and then try to actively make it stop.
I smashed your nostalgia
Yes many of you are nostalgic in love with Williamstown because you had good memories there. That's fine. Enjoy your memories. Boast about them. BUT realize not everyone had the same experience. Please do your best to make sure they do have your experience. Enjoy that experience with people of all colors. Show your leaders that what you want is to embrace diversity more than having a delusion of safer streets.
Racist? That's insane. Thank all you racist people for keeping the streets safe.
If you think that, you're a fucking racist.
---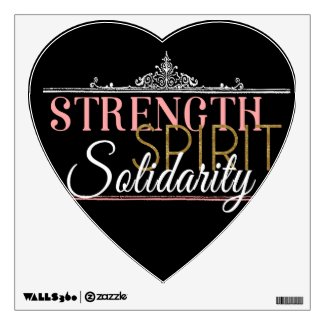 Strength, Spirit, Solidarity Wall Sticker
by
CrumpetsAndBollocks
Create your own
personalized wall decal
at Zazzle
---
Go ahead and Pin this post
---
This is part of
When it comes to sharing online, I am usually very fair about not saying certain things that might incriminate other people. Today, I didn't give a fuck.
Link up or read posts on when it comes to sharing on Finding Ninee.
Comments
comments